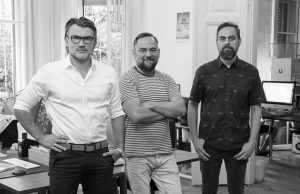 Photo: Balázs Mohai
WE ARE MINUSPLUS
Minusplus is an independent, 20 person architecture and design studio based in Budapest. We provide sustainable and innovative design solutions. We are sentient human beings, we love harmony and beauty. The most important thing for us is to create beautiful and harmonious design. Our interest is faithfully reflected in the diversity of our works. We enjoy what we do, and this is clearly visible in our buildings as well. Our plans are surrounded by continuous professional interest, our buildings are regularly published and rewarded with prizes.
WE CREATE INSPIRATIONAL SPACES
The main ambition of our team is to design buildings that encourage their activity. We explore new contexts and re-interpret the relationship of spaces and their habitants. We believe this makes the world around us a better place.
WE ARE CURIOUS
Our method is discovery: we create the setpoints of the plan from the analysis and interpretation of the given situation. We dare to ask and search for new solutions, for this we systematically research architecture and develop our own capabilities. We are convinced that the question is the most important driving force that starts a change.
WE COOPERATE
Our working method is receptive, therefore our architectural responses are various and colourful. We believe that harmonizing different approaches will advance our world and build our environment.
WE MAKE IT HAPPEN
We stand with two feet on the ground: our ideas are innovators, but we always work out ways to make them feasible.
TEAM
Dr. Zsolt Alexa, founder, managing director, lead architect
Donát Rabb, founder, managing director, lead architect
Dr. Ákos Schreck, founder, managing director, lead architect
Bea Bernard, senior project architect
Sarolta Bessenyey, junior project architect
Zoltán Bodonyi, junior project architect
Ágnes Bubla, PR assistant
Andrea Galambos, office manager, land surveying engineer
Henriett Gelányi, junior project architect
Nikolett Huszti, intern architect
Kinga Katatics, intern architect
Balázs Kis, senior project architect
Kitti Claudia Kódor, architect
Dorka Lázár, junior project architect
Julianna Marót, architect
Tímea Molnár, senior project architect
Richárd Zoltán Szarvas, junior project architect
Ivett Tarr, senior project architect
András Tislér, architect
Balázs Turai, senior project architect